Service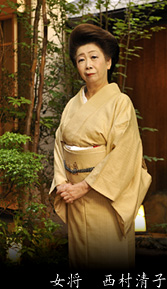 Kaden, a top quality authentic ryokan and kaiseki restaurant, strives to provide visitors with the ultimate Japanese experience. In form, in taste, in overall hospitality, we communicate the delicate sensibility found in various aspects of the Japanese culture: the spirit of moderation as expressed in Noh theatre as Jo-ha-kyu; etiquette sought in tea ceremony; elegance sophisticated through four centuries under the Heian period; sensitive yet bold expressions found in the Tale of Genji, and the tradition and craftsmanship of Kyoto, a city with a rich history of 1200 years.
It is our hope that you will find a culturally and emotionally luxurious moment with us at Kaden.
Noh stage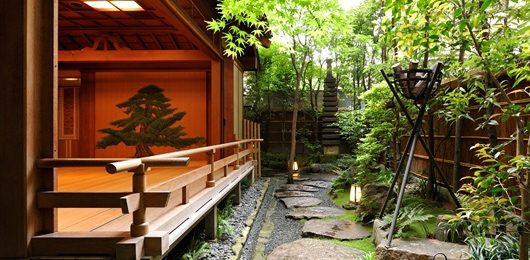 There are many Japanese-style inns in Kyoto, but this is the only one with an authentic Noh stage. This facility represents Kaden's emphasis on Japanese sensibility.
Baths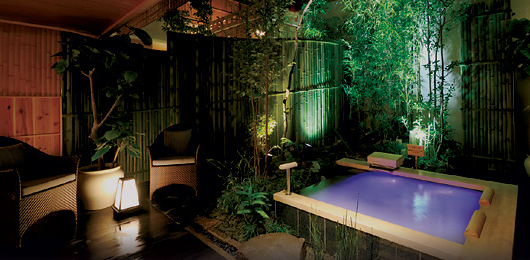 We offer the luxury of immersing oneself in Japanese traditional aesthetics in Kyoto. Enjoy being away from big cities and surround yourself in rustic beauty while relaxing in our manmade hot springs rich in medicinal properties.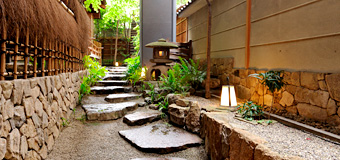 The path of craftsmanship
The foyer is a path where the exquisite craftsmanship of the visually appealing traditional arts is displayed, created by the gardeners, carpenters, and stonemasons of Kyoto.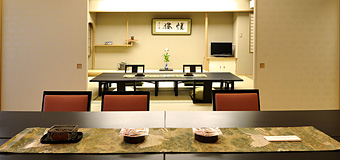 Rooms
The rooms are designed in the spirit of Noh theatre and traditional tea ceremony aesthetics while also accommodating modern conveniences.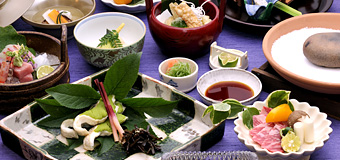 Meals
Kaden's kaiseki cuisine proudly displays attention to detail. The carefully selected dinnerware enhances the delicate presentation while the harmony between unique seasonings and the fresh natural flavors of each item pleases the tongue.